India
SC seeks J&K govt response on detention of 73-yr-old bar leader amid Covid-19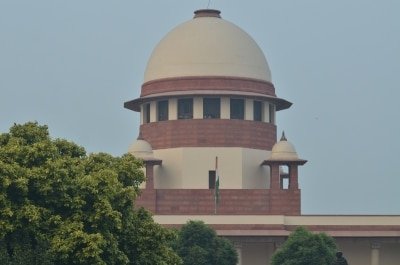 New Delhi, July 15 (IANS) The Supreme Court on Wednesday queried the Jammu & Kashmir administration on the need to detain J&K High Court Bar Association President Mian Abdul Qayoom, who has been under detention for nearly a year.
A bench comprising Justices Sanjay Kishan Kaul and Indu Malhotra took up the matter for hearing through video conferencing. Solicitor General Tushar Mehta, representing the J&K administration, sought 10 days to file a response in the matter. Senior advocate Dushyant Dave, representing Qayoom, questioned if such a delay is permitted in a matter involving writ of habeas corpus.
The top court noted that it is keen to know on what basis Jammu & Kashmir administration would want to detain him in Tihar Jail in Delhi, as Qayoom's detention as per order has already expired.
Dave argued that Qayoom is 73 years old and has been in prison for close to a year, and due to his age he is susceptible to Covid-19. Mehta argued that Qayoom's ideology is against national interest and insisted on filing a response in 10 days. Dave insisted on hearing the matter on Monday next week.
Dave contended that the detention order was for a period of one year. The bench replied it was the reason that it issued notice on the last date of hearing. Dave complained this matter was not listed despite specific directions of the court.
The bench asked Mehta in the current circumstances of Covid-19 crisis, would he like to keep this petition pending. Mehta insisted Qayoom's ideology continues to remain the same. The bench asked Mehta to respond on the matter on the next date of hearing. The bench posted the matter for further hearing on July 23.
On June 26, the apex court in an interim direction asked the Tihar jail authorities to provide summer clothing and daily essentials to Qayoom while in detention.
A bench comprising Justices Sanjay Kishan Kaul and B R Gavai issued notice to the Centre and Jammu & Kashmir administration on a plea by Qayoom, who moved the top court challenging the High Court order passed on May 28, upholding his detention.
Dave had contended before the top court that his client was brought from the Union Territory to Tihar Jail therefore he has only winter clothing. The apex court had listed the matter for hearing in July. Qayoom was detained under the Public Safety Act ahead of the revocation of Article 370 last year.
The plea contended that High Court verdict is ex facie unsustainable in law as it is premised on stale, irrelevant, remote, vague, imprecise and deficient grounds of detention. Citing the High Court verdict, the plea said "In paras 23 and 28 of the impugned judgment, the High Court makes it abundantly clear that the detention order has been upheld solely on one ground – the four FIRs dating back to 2008 and 2010, as enumerated in the detention order. These FIRs are stale, irrelevant and have no proximate, pertinent or live link to the present, and are thus superfluous and extraneous to the satisfaction required in law qua the tendency or propensity to act in a manner prejudicial to public order."
–IANS
ss/kr