India
Ramky Enviro signs contract with Greater Chennai Corporation for Solid Waste Collection Program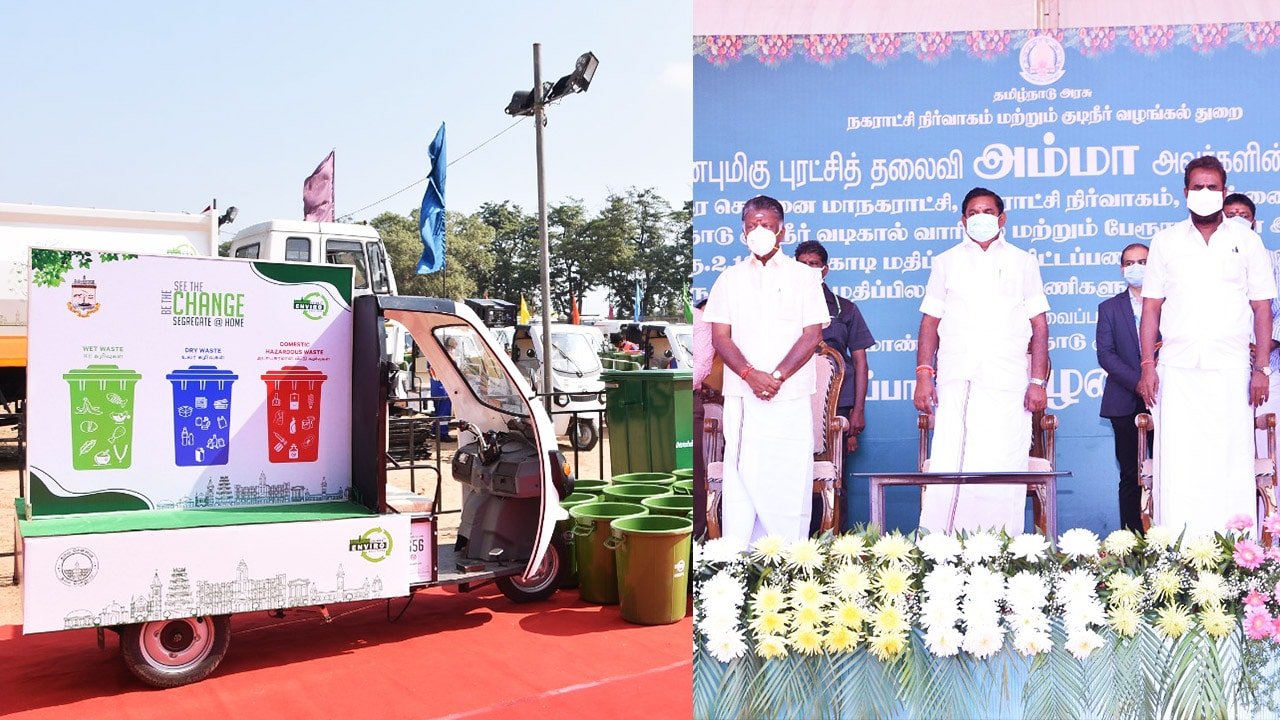 Chennai, India: Ramky Enviro Engineers Limited (REEL), signs a contract with the Greater Chennai Corporation enabled solid waste collection program. Ramky will cover 4 zones in Chennai including Zone 1 – Thiruvathayur, Zone 2 – Manali, Zone 3 – Madhavaram, and Zone 7 – Ambaturas a part of this program. The program has been launched by Shri. Edapaddi K. Palaniswami, Chief Minister of Tamil Nadu.
With this partnership, Chennai Municipal Corporation and Ramky Enviro aim to achieve100% waste segregation at source across all the households in the 4 zones within one year and sustain these efforts consistently. The program will be executed using innovative electric primary waste collection vehicles and other supporting waste collection and transport infrastructure with deep technology and IoT integration, to enable the door-to-door collection of pre-segregated waste from households, market areas, and public places.
To achieve this objective, Ramky Enviro has acquired a fleet of about 850Zero Emission electric primary collection vehicles, 15 Mechanical Sweepers, 15 Compactors, and other specialized infrastructure, which will be operated on a24 hours basis in 3 shifts. Waste will be collected from all the generators and 50% of the collected waste, nearly 400 MT every day, which has been segregated at source, will be delivered to Decentralized Processing Facilities designated by the Corporation.
Commenting on the partnership with Chennai Municipal Corporation, Mr. Masood Mallick, Joint Managing Director of REEL, said, "Entering into this partnership reaffirms our commitment as a nation to progress towards a cleaner and greener environment, a truly Swachh Bharat. Through this partnership, we aim to achieve the government`s vision of 100% segregation in all households. Being the leading player in the waste management sector over decades, we are constantly innovating to drive greater efficiency. We are greatly focused on driving inclusivity, we will have 4000 people working on the project with a special focus on women empowerment and inclusion of the informal groups.
Levering technology has been at the forefront and we have adapted the most unique and innovative methods such as a zero-emission EV fleet for collection of source segregated Wet Waste, Dry Waste, and Domestic Hazardous Waste and other modern Street Cleaning, HorticulturalWaste Collection and Disaster Management infrastructure. The entire fleet is GPS and IoT enabled and the entire waste collection system runs on RFID-based monitoring and control systems, which is monitored in real-time from a state-of-the-art Command and Control Centre.
This, together with a highly responsive 24/7 citizen complaint redressal system, a strong IEC (Information Education and Communication) program, and a pioneering performance monitoring system that is being implemented for the first time in India, will certainly aid us in delivering a cleaner and healthier environment for the citizens of Chennai.
We are particularly proud of the fact that whilst the project showcases the best of global design, innovation, and technology, it has been delivered and realized on the ground through "Make in India" partnerships with leading Indian and foreign OEMs."