India
Lockdown hard on kids with special needs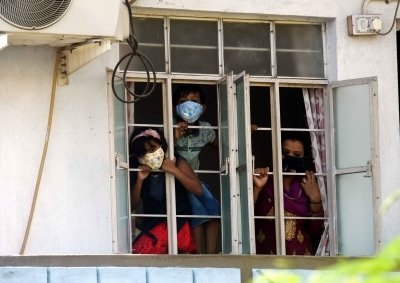 Ten-year-old Dimpy and 6-year-old Bani, both sisters suffering from a group of disorders called cerebral palsy are finding it difficult to cope up with the new challenges that the lockdown has thrown upon them.
Having 90 percent disability, they neither can walk nor can they speak, listen or even sit properly. Since one-to-one therapy session is required in such cases, both girls are not able to go for the same. Their mother Pinky is facing the most difficult time during the lockdown.
Speaking to IANS, Pinky, said, "Life is already difficult for me with both my girls, having cerebral palsy. This lockdown has mounted the problems even more. My daughters need to remain in diapers for the entire day, therefore, I need more diapers for them than normal children. But during this lockdown its supply is interrupted. It is one of the essential commodities for my girls."
She also said, "They cannot ask even for food, if they are hungry. I have to give them food many times a day as per their routine but with limited supply of edibles in my locality, I am not able to feed them properly."
Pinky's problems do not end there. She said that she could not renew the disability certificates of the girls as the date on which it was to be renewed, fell in the lockdown period. "My husband ran from pillar to post for their various tests for the entire year. Carrying two grown up girls was not easy for him. The certificate is issued based on many tasks including I.Q. test. But when the date of renewal came, the hospital which has to issue the certificate, is closed. These girls are not getting financial help which they used to get and I have no clue when will the certificate be renewed," she said.
Pinky said that she was also facing problems in getting ration and water from the tanker that the government sends. "I cannot leave home at all because my daughters need me every minute. Therefore, I don't work also. I am facing financial difficulty as my husband is also out of work due to the lockdown. Therefore, this has posed extreme challenges for me," she said.
Abhiraj, a 4-and-a-half year old boy who is also suffering from cerebral palsy, complains to his mother about severe muscle pain as he requires special exercises owing to his physical condition. "Since the lockdown, he has not gone for therapy," his mother Preeti told IANS, adding "telemedicine in his case is also not very helpful as the exercises need to be done in person and not online or over the phone."
"My son largely depends on exercises that his therapist makes him do. It needs space but I stay in a rented one room set which is very small, he is not able to follow his routine. Therapy centres and hospitals are closed. He is not doing those body movements and complains of severe muscle pain," said Preeti.
Also, the little boy is not able to understand why he has to stay at home for the entire day. He is showing anxiety and frustration as he has to remain indoors. "It is very difficult for me to make my son stay at home all the time. He insists to take him outside. Earlier, he used to go to school where he was happy but now schools are closed. He has become very irritable and anxious," said Preeti.
She was planning to go back to her hometown in Etawah but could not go due to lockdown. "I planned to move back to my home town in Etawah, at least I would have my family members and food there. My husband is a daily wager. I have no money, as he is out of work. It's very expensive to take care of a special child. This lockdown has broken our backbone. Not a penny is coming home. I don't know how to fulfill needs of my son when I have no money at all."
Child rights activist and founder of NGO Astha which works for children with disabilities in urban slums of South Delhi, Radhika Alkazi, told IANS, "It is very important to highlight the problems these kids are facing right now. There are problems with their medication especially for those on long term medication or having chronic medical conditions like epilepsy or Thalasemia. The biggest issue is food. Most of their parents work as a daily wager in the unorganised sector. Even if there is food distribution during the lockdown, how much can one carry if there are two kids with disability in one family?"
She also added, "they are anyway isolated mostly but in this kind of lockdown when they are totally locked in the house without much physical movement, it is very difficult for them as well as for their families."
(Sfoorti Mishra can be contacted at sfoorti.m@ians.in)
–IANS<br>sfm/skp/