India
Jaws of death chill & thrill at Maha 'Crocodile Safari' (IANS Special)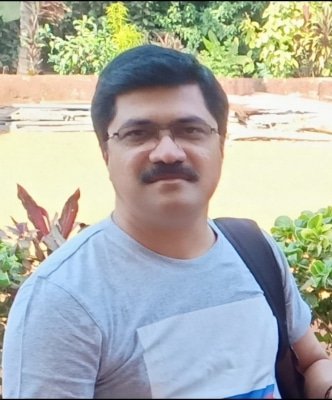 Ratnagiri (Maharashtra), May 14 (IANS) On a quiet, hazy wintry morning, a small motorboat with its engines chugging noisily approaches the peaceful mangroves on the north bank of Vashisthi River, and suddenly there is a furious activity in the thick bushes and marshes with hundreds of birds taking flight.
Scores of big and small freshwater crocodiles seem to wake up and scurry into the safety of the brackish low-tide waters, some cast a suspicious glance at the unwelcome intrusion while others snap their huge toothy jaws in warning, chilling and thrilling the small band of brave tourists in the boat.
Welcome to Maharashtra's first natural 'Kokan Crocodile Safari' on the banks of Vashishti River at Maldoli village in Ratnagiri.
The scene is repeated often during the hourlong boat safari on both banks, upstream and downstream, sending slivers of shivers up the spines of the visitors who view wild crocodiles at an arm's length.
An ancient settlement, Maldoli, around 27 kms upstream from the famed Arabian Sea's Dabhol Port, is located some 275 kms south of Mumbai, was once the centre for aweighinga¿ (maal-tol) goods on ships.
"Two decades ago, when I took over the century old family grocery business, my supplies came by boat from Mumbai, or Chiplun, around half-an-hour boat ride upstream. Whenever my labourers spied a crocodile, they would scream with shock and awe and drop everything to gawk at them," said KCS Proprietor Sandesh S. Sansare, 47.
This got him thinking on the sheer potential of 'showing off' the crocodiles to a wider audience besides introducing the stunning environmental beauty and rich ecosystem of the region to outsiders.
"I launched the KCS in 2005 with a huge 100-seater boat in 2005, but that proved unviable, so in 2007 I bought a compact 16-seater, which was a sensible decision," Sansare told IANS.
Since then, he and his Safari Master Uttam Minde have been conducting guided hourlong boat safaris around Maldoli on Vashishti River, when the waters ebb.
"Last January (2020), around two families on the boat had a dream safari – they counted a staggering 104 crocodiles basking in the sunlight on both banks of the river. Even I have never witnessed so many at a time in the past 15 years," smiled Sansare.
A professional wildlife photographer from Mumbai, Indraneel Chavan – who has done a dozen safaris, fondly calls Maldoli his 'second home', where he developed a passion for nature and wildlife strong enough to risk it as a fulltime bread-winner.
"These are fresh-water crocodiles or 'Muggers', but they seem to have adapted well to the salty seawater which gushes in daily through the high tides," Chavan told IANS.
It's a stunning spectacle as Minde guides the boat gingerly up and down the 700-800 metres wide river for a wide-eyed 'dekko' of the slithering dark green, grey or blackish monsters splashing into the waters, when water levels drop by 16-18 feet during low tides.
"A couple of times, people aboard froze when a large crocodile, at least 14-15 feet long, lunged at lightning speed towards the boat and swam right beneath us to the other side, without touching the hull, propellers and rudder or disturbing our balance, " said Chavan.
At times, the crocs seem like playful dolphins, swim alongside the boat, try to race it, or even lead it from the bow, he added.
Estimated to number over 200, the crocs thrive in the region which has enough food and prey, both marine and terrestrial, are routinely visible to villagers in the bushes or marshes near the river banks, but keep off humans, who reciprocate by not harming even the baby crocs.
Sansare said that since his grand-father's times, he has not heard of a single instance of crocodiles attacking humans, and after hundreds of safari trips in the past 15 years, there has been no untoward incident.
"The most notable aspect is that humans give these reptiles their space, and vice-versa, so there is little scope for crocodile-man conflicta Something that can be learnt and implemented elsewhere in the country," explains Chavan.
The KCS safaris are conducted during the eight months of winter and summer, in monsoon, its off-bounds, and besides Indian nature lovers, is regularly patronized by foreigners at a ride of Rs 250 per head.
"For those with a bigger appetite for excitement, we offer weekend packages in our cottages, with basic amenities including Konkani cuisine mealsa guests can go on multiple safaris or simply enjoy the natural beauty around," Sansare said.
Marking his niche without spending a rupee on advertising, Sansare now plans to make it a big affair with investments into the project, in tune with Maharashtra government's plans to develop the coastal Konkan region into the state's biggest tourism hub.
"A Jumping Crocodile Cruise is available in Darwin River in Australia and a few African countries, besides one in Bannerghatta forest reserve in Bengaluru. But, Maldoli is leagues away," smiled Chavan.
(Quaid Najmi can be contacted at: q.najmi@ians.in)
–IANS
qn/sdr/