Entertainment
'Into The Night' is a non-stop, cheesy caper (IANS Review, Rating: * * * )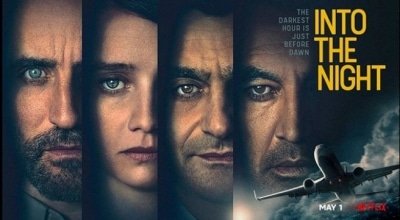 "Into The Night" (Netflix series in French language with option of English audio and subtitles); Cast: Pauline Etienne, Stefano Cassetti, Alba Gaia Bellugi, Mehmet Kurtulus, Babetida Sadjo, Ksawery Szlenkier, Jan Bijvoet, Regina Bikkinina, Laurent Capelluto; Created by: Jason George; Rating: * * * (three stars)
By Vinayak Chakravorty
A fatal wave that strikes with sun rays is rapidly spreading across the world, and the infected die almost immediately. Staying away from daylight is the only way to survive.
Netflix's first Belgian original series would hardly seem like what the doctor ordered in the time of COVID-19 lockdown, but if you choose to sit through the show — and assuming you are a fan of sci-fi apocalyptic stuff — you could be in for six episodes of non-stop fun.
The thriller series is based on Jacek Dukaj's Polish sci-fi novel "The Old Axolotl" and primarily in French language, but you have the option of English audio and/or subtitles.
This, though, is, the sort of story where language becomes immaterial after a point (which is early on), as the action and suspense drama take over almost right away. An ex-military helicopter pilot Sylvie (Pauline Etienne) is on her way to Moscow from Brussels. We get to know her co-passengers on the late-night flight. There is the social media celebrity Ines (Alba Gaia Bellugi), a Turk named Ayaz (Mehmet Kurtulus), the nurse Laura (Babetida Sadjo), Jakub the mechanic (Ksawery Szlenkier), a security guard named Rik (Jan Bijvoet), and Zara (Regina Bikkinina), a Russian travelling to Moscow with her seriously ailing little boy. Presently we meet co-pilot Mathieu (Laurent Capelluto) and flight attendant Gabrielle (Astrid Whettnall).
Even as the group boards, a NATO officer Terenzio (Stefano Cassetti) snatches a security personnel's rifle and storms into the plane at gunpoint. Like many others in the airport he has seen the live footage on news TV, of people instantly dropping dead in various parts of the world even as the sun rises. While no one is quite sure, Terenzio insists to the passengers on board that he is actually saving their lives. He wants the pilots to fly West, away from the rising sun.
Terenzio draws the passengers into a race against time, his destination being an underground military facility that is safe from the killer rays of the sun.
Don't get into the science of it, don't look for logic. "Into The Night" works for the sheer speed with which it unfolds. There isn't a dull moment, and you don't really have to make an effort to understand how it's going to end long before it actually does.
Creator Jason George keeps the tension coming evenly as vested interests are revealed, trust issues pop up among the band of strangers, and there's the danger that the plane is running out of fuel. You do spot an effort to define the human race as a whole through the mixed profiling of the passengers, and also some sort of an effort to leave a message about humanity and survival, but that really becomes unimportant as the action thriller overshadows all.
It's loaded with jumpy moments and corny dialogues and it wholly unfolds as cheesy fun. It's stuff you would hardly take seriously despite its sombre undercurrent theme — which inadvertently works as an advantage if you are up to bingewatching to bust some stress.
(Vinayak Chakravorty can be reached at vinayak.c@ians.in)
–IANS
vnc/vnc