Sports
I don't take credit for success of Rathore & Sodhi, says Russell Mark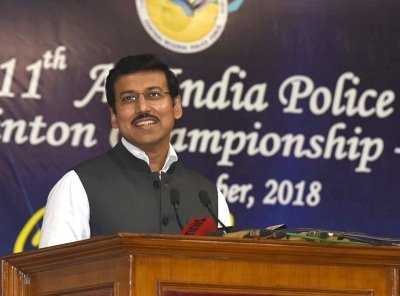 New Delhi, June 19 (IANS) Legendary double trap shooter Russell Mark lifted the lid on what it was like to coach former India marksmen Rajyavardhan Singh Rathore and Ronjan Sodhi during the early 2000s.
Russell participated in six Olympics during the course of his illustrious career and won the gold medal at the Atlanta Games in 1996. He also won a silver medal at the Sydney Olympics in 2000.
Russell famously coached Rathore for a brief period as the latter clinched the historic silver medal at the Athens Olympics in 2004. He, however, stated that despite being part of his coaching team, he can't take credit for Rathore's success.
"Those two individuals were very different in their techniques. I think Ronjan was probably a better shot than Rathore," Russell told reporters via Zoom on Manav Rachna Happy Times show.
"Early on in his career, (he had) a couple of little habits, and to his credit, Ronjan worked hard towards it and then he got on to the stage were he was nearly technically perfect. He did a lot of things right.
"It's nice that I am being given the credit for their success but I certainly don't take it. I think I was always a mentor to those guys more than anything because both of them were incredible competitors.
"People like myself were around them to just give them confidence and belief that what they are doing is correct," he added.
Russell also spoke about men's double trap being ousted from Olympics to maintain International Olympic Association's gender equality criteria. It was replaced by mixed team trap event.
In 2017, it was announced that double trap won't be a part of Tokyo Games and World Cups series but will be continued as usual at World Championships and Commonwealth Games.
"It was a shock in some ways. It was a shock because for media… for television… double trap was by far the best event to cover because it was good spectacle and non-shooting persons could watch," Russell said.
"Unfortunately the International shooting federation made a mistake by taking women's double trap out of the program because we live in a day of equality and you can't have a men's event without a women's event.
"It makes no sense why they did that. That was really the end of it. It was a very poor decision because you cannot justify an event just for men and not for women.
"What they really should have done was lobby hard to get the women's event back in and then I think double trap would have survived."
–IANS
pks/bbh