India
Himachal to be stray cattle-free by 2021: Thakur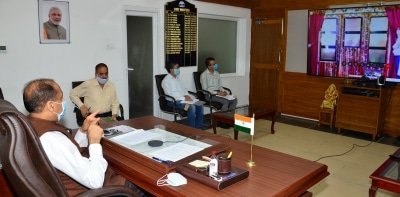 Shimla, Aug 3 (IANS) Himachal Pradesh will be stray cattle-free by 2021 and it would be a pioneer state in the country in this field, Chief Minister Jai Ram Thakur said on Monday.
He said this while launching the Assistance to Gausadan, Gaushala, Cow Sanctuary Scheme and the National Artificial Insemination Programme Phase-II of the state Animal Husbandry Department here.
He said that under the scheme, Rs 500 per cow, per month would be provided to all cow shelters and sanctuaries having 30 or more cattle as maintenance allowance.
He said the financial incentive would be extended to registered cow centres run even by the panchayats, mahila mandals, local bodies and NGOs, among others.
Thakur said the state has decided to ensure that no one would be allowed to abandon their cattle.
In the first cabinet meeting of the government, it was decided to make provision for providing shelter to stray cattle and levying Re 1 cess per bottle of liquor for construction and maintenance of cow shelters.
He said the government has now decided to levy cess of Rs 1.50 per bottle of liquor to develop cow sanctuaries.
He said under the National Artificial Insemination Programme Phase-II, facility of artificial insemination would be provided to improve the breed of cattle. This would benefit over eight lakh farmers of the state.
Animal Husbandry Minister Virender Kanwar said efforts would be made to bring all abandoned cattle into cow shelters and sanctuaries.
Seven cow sanctuaries were coming up in seven districts and they would be made functional at the earliest.
He said the Agriculture Department would purchase cow dung from the cow sanctuaries and would be sold to farmers as vermi-compost.
–IANS
vg/pgh