India
Health Ministry expects 'unity in isolation' during Janata Curfew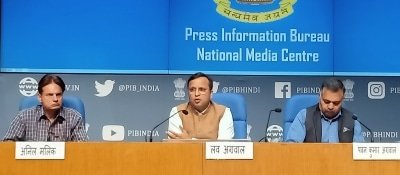 New Delhi, March 21 (IANS) The Ministry of Health and Family Welfare said on Saturday that unity in isolation is expected from people during the proposed 'Janata Curfew' on Sunday.
Addressing a press conference here, Joint Secretary at the Health Ministry Lav Agarwal said, "Together we can defeat this disease. I expect that people will follow all the advices given by the Prime Minister for Janata Curfew."
Prime Minister Narendra Modi had on Thursday urged the nation to stick to a self-imposed curfew and stay indoors on Sunday to thwart the spread of coronavirus.
Agarwal said that everyone will have to come together to make the initiative a success. "We expect unity in isolation on the day of Janata Curfew. Do not come out unless it is essential," Agarwal said.
The Joint Secretary refuted that the Janata Curfew is a specimen of lockdown. "Whatever actions we are taking are just precautionary measures. This lockdown word is wrong, it creates fear among people. There is no lockdown in the country," he said.
Agarwal also said that during the Janata Curfew, mock drills will be conducted in order to take the stock of the preparations of the health care facilities.
–IANS
sfm/arm