India
Govt steps in to fight with swarm of locusts as several states are under threat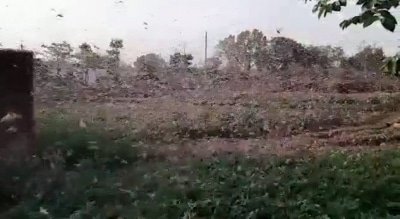 New Delhi, May 27 (IANS) The government has stepped in to fight with menace of locust as it has become a great threat for farmers before the sowing of kharif crops sowing gathers pace.
Amid a wave of locust swarms sweeping across western and northwestern India, the Department of Agriculture and Farmers' Welfare (DAC&FW) has stepped up locust control operations in the affected states of Rajasthan, Punjab, Gujarat and Madhya Pradesh, said Union Ministry of Agriculture and Farmers Welfare on Wednesday in a statement.
According to the Agriculture Ministry, around 200 Locust Circle Offices (LCO) are conducting survey and control operations in close coordination with the district administration and agriculture field machinery of the affected states. Locust control operations are in full swing in coordination with the state agriculture departments and local administration.
In Rajasthan, 21 districts, in Madhya Pradesh 18 districts, in Punjab one district and in Gujarat 2 districts have undertaken Locust control till now. For effective control of locusts beyond scheduled desert areas, temporary control camps have been established in Ajmer, Chittorgarh and Dausa in Rajasthan; Mandsaur, Ujjain and Shivpuri in Madhya Pradesh and Jhansi in Uttar Pradesh.
As on May 26, control operations against locusts have been done in 47,308 hectares of area in total 303 places in Rajasthan, Punjab, Gujarat and Madhya Pradesh by LCOs in coordination with the District Administration and State Agriculture Department, said the statement.
As per the agriculture ministry, 89 fire brigades for pesticide spray; 120 survey vehicles; 47 control vehicles with spray equipments and 810 tractor mounted sprayers have been deployed for effective locust control.
"As of today, there are active swarms of immature locust in Barmer, Jodhpur, Nagaur, Bikaner, Ganganagar, Hanumangarh, Sikar, Jaipur districts in Rajasthan and Satna, Gwalior, Seedhi, Rajgarh, Baitul, Devas, Agar Malwa districts of Madhya Pradesh," said the agriculture ministry.
–IANS
pj/arm