Digital Marketing
Five Best Social Media Marketing Tools For Your Social Marketing
Know About Five Most Popular Social Media Marketing Tools To Boost Your Social Marketing.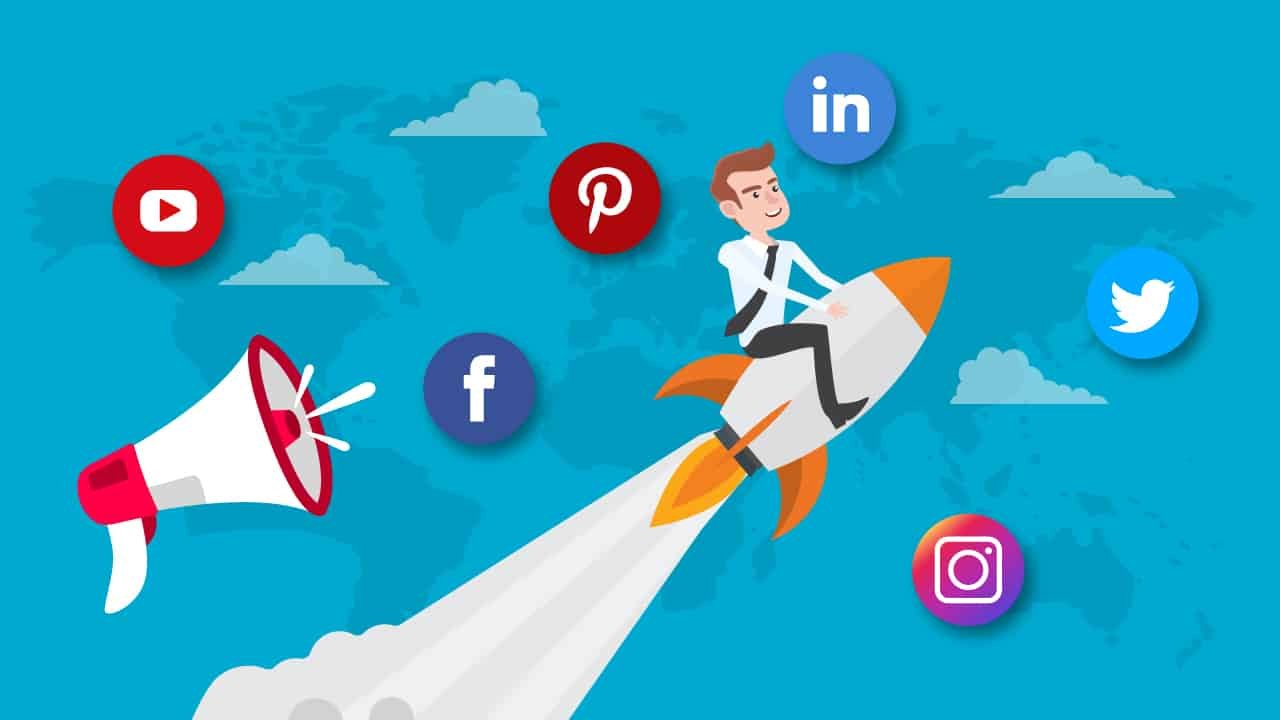 Social media marketing tools are now on high demand because social media has a huge audience base and people's engagement with social media is on hipe.
Social media has become an essential part of all. People spend lots of timing on social platforms. That's, why social media is a big market for the companies who need sales and also for the business who wants to make a strong relationship with their clients. But, now people use lots of social media at a day, and it is hard to track all social pages and to run and to monitor various social pages. So here we need some specialized tools which can minimize our efforts on social media marketing and can give optimum results. In this article, we are going to talk about 5 most popular social media marketing tools which can help your social marketing. Let's get started;
Hootsuite is a popular social media marketing tool. With this tool, you can manage all your social media profiles on Facebook, Twitter, YouTube, Instagram, Snapchat, and rests on a single dashboard. Nowadays so many social sites are available, and people are using them. So getting all accounts on a single platform is a hassle-free and time-saving way to manage all your social accounts. But it is not all you get, besides that you get other features.
Features of Hootsuite:
Content curation.
Scheduling options.
Bosting your high-performance contents.
Analytics reports.
Team management.
Monitoring feature, and lots of other features.
Pricing and Plans of Hootsuite:
They have four different plans for their users.
1. Professional
This plan priced $ 19 and gave 1 user and 10 social profile. It allows you to send 30,000 boost post per month.
2. Team
This plan costs $ 99 per month. You get 20 social profile and 3 users option here. You can send 125,000 boost posts per month with this plan.
3. Business
Business plan features 35 social profile and 5 users to 10 users for $ 499 per month. It also offers 350,000 boost posts per month.
4. Enterprise
This plan is the high-end plan, and for the pricing, you have to contact their sales team.
Brand24 is a popular social media monitoring tool. By this tool, you can monitor your brand and business mentions with ease. This tool very user-friendly and reliable to track your brand mentions. You can not only track the mentions on social media but also across the web. It is simple to find; just create a new project, enter your keywords and find them.
Features of Brand 24 S.A.:
Mentions Feed to check what people are saying about your brand on the real time.
Discussion Volume Chart to prevent any negative impact which can affect your brand or company image.
Mention Analytics to get detailed information about your brand mentions.
Influence Score to decide with whom you should be working with.
By the Sentiment Analysis, you can trace customers attitude and behavior and what you need to improve.
You get alerts via emails on app notifications to work immediately on the negative mentions of your business or brand.
The data reports you can get into automated PDF reports, XLS files, and infographics.
You can filter your reports through various parameters.
Pricing of Brand24 Social Media Marketing Tool:
Brand24 offers a 14-day free trial. After that, you have to choose one premium plan. They have three packages:
1. Plus
The Plus plan costs $ 49 per month, and it gives you 50k mentions per month, 5 users access. You get updated reports every 12 hours. Also, you get Sentiment Analysis, Slack Integration.
2. Premium
The Premium plan is for professionals and offers to track more mentions. You can track 400k mentions per month, 10 user access, and every hour updates, social media research, extending limits, PDF reports, and all Plus plan features included. This plan is priced $99 per month.
3. Max
This plan is suitable for teams and agencies. You get monthly 1M mention information, 99 user access, real-time update, consultant, and all the Plus and premium features included. The plan costs $  499 per month.
Meet Edgar is a popular scheduling tool for social media marketing. If you are running a business, then it is hard to spend time operating your social engagements. You may need to post your updates at a time when you will not be available. So you can schedule your social posts and the tie you set, that will be automatically updated. MeetEdgar provides very best and reliable automation and scheduling solutions.
Features of MeetEdgar:
Auto-variations feature automatically writes posts from your preferred articles and writings.
They have their Chrome extension by which you can publish your preferred article you have been read through the internet.
You can schedule your social posts by separating them on various categories.
Their intelligent system allows you to publish and reshare your social posts.
Lots of social media content related tools; Unlimited Content Library, Automatic update & edit contents, and many more.
Managing related tools like; Weekly Email Update, Shorting & Tracking Links, and so more.
Plans & Pricing of MeetEdgar:
With 30-Day Money-Back Guarantee
MeetEdget is among popular social media marketing tools as to their pricing perspective. They have one plan worths $49 per month when billed monthly. You can manage up to 25 social media accounts, an unlimited library for contents, unlimited categorize to organize contents and many more.
MAVSocial is an all in one social media management solution by which you can easily manage all your social efforts. By using this tool al kind of businesses whether it is small, medium or large, they can manage their social presence effortlessly. They have a good focus on visual contents management. You get tons of free images to form numerous free image platforms.
Features of MAVSocial:
You can schedule your posts so that your posts can automatically be shared when you are not working.
Tracking is easy for your social media posts, popular topics with MAVSocial.
You can easily filter your reports by classifying the on categories.
On a single window, you can watch your social messages, comments, engagement history.
They provide demographics by which you can monitor your user engagements, and then you can take the right decisions.
It packed up with lots of more features inside.
Subscriber and payment plans for MAVSocial:
As we told before they cover up all kinds of business needs. That's why they have four plans.
1. Advanced
This is the starter plan available in $16 per month. It is for a single person who can track and manage 10 social media accounts.
2. Pro
The pro plan is for three users which worth $65 per month. You get three user access, and by spending $24 per month, you can add two additional users. You can link up 30 social accounts here.
3. Business
With the Business plan, You get five user access, and by spending $24 per user, you can add unlimited users. The price of the plan is $ 166 per month. You can link up 50 social accounts on the plan.
4. Enterprise
The Enterprise plan is priced $ 416 per month, and an adding users feature as same as the Business plan. This plan enables you to connect 70 social media accounts.
All the plans include some common features like; RSS feed, Chrome extension, Stock Image Library, campaign Calender, campaign Planner and lots of other features.
OKtopost is a perfect B2B social media management solution. By OKto post you can enhance your social media marketing efforts on various social platforms. You can manage your social campaigns, publish contents to social media, schedule contents for late publishing.

Features of OKtopost:
You get lots of features on publishing. Smart scheduling, Social campaign managing.
Content curation.
Editorial calendars.
Post level analysis.
Powerful reports.
Pricing of OKtopost:
Pricing not available on their website
The pricing of the OKtopost is not available on their website, but the pricing would be between $100 for the basic ones and between $500 to $ 100 for advanced ones.
Thanks for reading. we hope you have enjoyed the article. If you want to read more social media marketing and digital marketing related articles you can read:- 3 Simple Steps To Creating A Strong Social Media Marketing Strategy, How to Create an Effective Digital Marketing Strategy, and Check Out These 5 Best Tips For A Successful Google AdWords Campaign.