Gadgets
Check Out These 5 Cool Bluetooth Speakers Under Rs.2000
Small Portable Bluetooth speakers are now has become high demanded and very popular among music lovers because anyone can easily carry them.
Especially when you are somewhere away from home for a party or travel without the music that is incomplete. So a portable and light-weight Bluetooth speaker would be the best partner for you to make those moments more enjoyable. In this article, we are going to present you some mid-range and portable speakers which are under the price range of Rs. 2000. Let's get started.
Bluetooth speaker boAt Stone 260:
The design of this Bluetooth speaker is unique and attractive. The speaker is made of plastic, rubber, and fabric. At the front of the speaker, there are fabricated designs present that make the speaker very trendy and funky. The loudness of that speaker is very good. The boat stone 260 has 1000 mAh Non-removal lithium battery which gives you 5 hours of continuous music experience. The speaker has a mic.You can attend calls up to 9 hours on a single charge with boat Stone 260. The speaker has IPX5 ratings. That means you don't need to worry about the water splashes with these speakers. You can easily take it to the pool party or the beaches.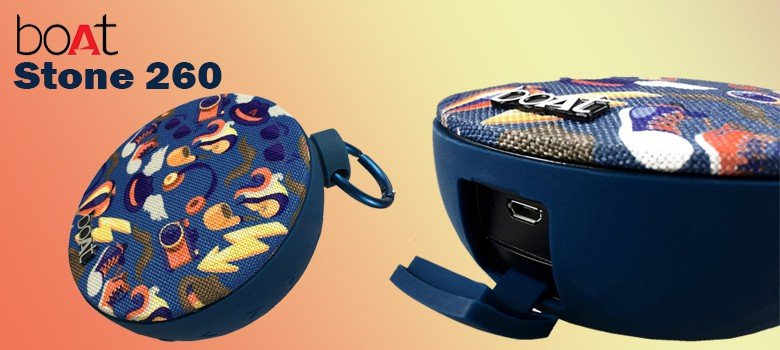 The control buttons are perfectly integrated to the speakers that you can efficiently manage your music. The speaker is available in many design options; Charcoal Black, Psyche, Jazzy Blue, Prism, Jungle Jam, Enigma and Voyage. The price of that speaker is Rs. 1484.
BUY NOW
Bluetooth speaker Philips BT64B:
This Philips BT64B Bluetooth speaker has a compact design, and it delivers enhanced music experience. Besides Bluetooth device connectivity you get here microSD card slot and 3.5 mm AUX cable option on that speaker. This portable speaker is made by plastic and surrounded by rubber type material to give extra grip on hands.  You get here mic too for attending calls. There are separate buttons for power on-off, pause or play music, volume increase-decrease buttons. The Bluetooth speaker is powered by a 1000 mAh built-in lithium polymer battery.
The battery of these speakers ensures you 4 hours of playback time. The Philips BT64B speaker is available in four color options Blue, Red, Black, and White. The price of these speakers is Rs. 1460.
Bluetooth speaker JBL GO:
The Bluetooth speaker is made of plastic and has rubberized finish outside. At the front of the speaker, there is a metal grill to protect the speaker. You get a power button, volume rockers, and Bluetooth connecting switch on the top of that device.  At the left, there is a hole to hang the portable speaker somewhere. You get noise-cancelation speakerphone in JBL GO. Besides Bluetooth device, you can listen to the music by plug-in AUX cable into the AUX port. The device is only 132 Gms.
The speaker has a lithium polymer battery inside which delivers music playback time up to 5hours. You get a wide range of color options to choose from; Black, Blue, Grey, Teal, Red, Yellow, Orange, and Pink. The price of that speaker JBL GO is Rs. 1799.
BUY NOW
Bluetooth speaker boAt Stone 200:
This boAt Stone 200 Bluetooth speaker is made of good quality plastic, and it looks very stylish for its design. This wireless speaker is square, and around it, durable rubber matte finishes to make it shockproof dustproof outside. At the top, you get a strap to hold it. These speakers are waterproof so that you can take it with you on an outdoor pool party or in the rain without worrying about splashes. As of its size, this Bluetooth speaker has decent quality bass and loudness. It has dedicated on-off buttons, music pause-play buttons, and volume rocker buttons. It has a built-in microphone and one button to receive or reject calls.
It has a 1500 mAh lithium battery. It can give playback time of up to 10 hours on a single charge. This Bluetooth speaker boat Stone 200 has three color options to choose; Blue, Black and, Orange. The price is Rs. 1099.
BUY NOW
Bluetooth speaker Photron P10:
This Bluetooth speaker is circular shaped, and the design is attractive. Though the Photron P10 is entirely made of metal, the weight is only 170 Gms. In front of the speaker there is a metal grill to protect that speaker, and at the bottom, there is a rubber ring to give that device extra grip on the surface. You get four connectivity option with that speaker; Bluetooth, FM, AUX and microSD card. On that Bluetooth speaker you get on-off buttons, a mode selection button, and volume rocker buttons. There is an inbuilt mic and call receiving or reject button is available on Photron P10. The sound quality of that Bluetooth speaker is impressive according to its size and price range.
It has 400 mAh Lithium-ion battery inside which can give up to three hours of music playback timing and 4.5 hours of talk time. The price of Photron speaker is Rs. 699.
BUY NOW
Thanks for reading. If you liked it or have any suggestions, please comment below.