India
Bengaluru Christians celebrate Easter digitally amid lockdown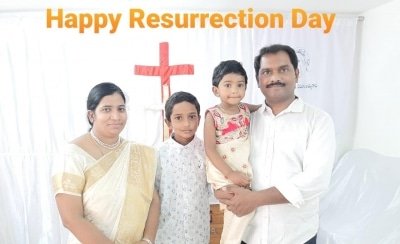 <br>"Christ is risen, Allelulia! Please join me on Facebook live at 9 a.m. to rejoice and celebrate Easter Day, the Sunday of Christ's resurrection," messaged Bible Mission Pastor Prakash Onesim to his church members.
With the Trinity Bible Mission Church at Doddanekkundi shut due to the lockdown, over 200 devotees linked up online to attend church virtually. "More than 200 Easter celebrants joined the virtual service. Though we didn't congregate physically in the church, we didn't miss observing the festival or its celebration, aided by technology," Onesim told IANS.
The software engineer turned Christian preacher said the faithful connected through smartphones, laptops and television screens to sing hymns, glorifying Jesus Christ defeating death.
Using his smartphone, Onesim read out scriptures, Book of Mark, from the New Testament of the Bible to commemorate the holy occasion.
On the ease of using technology in virtual preaching, he said more people easily link up through Facebook as a lot of them are regularly online. "Technology-wise, it's very easy to connect with the Church members using Facebook because they are regularly connected with the app, unlike Youtube, which garners lesser views, around 50," said Onesim, a former employee of IBM and Accenture.
Interestingly, Onesim is not at his home in Bengaluru, but at Narasapuram, West Godavari District, Andhra Pradesh, from where he linked up with church members. Narasapuram, is 805 km northeast of Bengaluru on the east coast of India, lying by the Bay of Bengal Sea.
Meanwhile in Bengaluru, Onesim's church member Govada Anil Kumar came online for Easter, after a similar drill on Good Friday. Living 30 km away from the Bengaluru Bible Mission Church, Kumar digitally linked up for the festival from his residence in Kodathi, a city suburb.
"After Good Friday service, I again attended the church virtually for Easter to see Pastor Onesim on my computer screen and follow the rituals and scriptures," said Kumar, a software engineer.
Similarly, Lakshmi Soujanya, a doctor, projected the online church service on her home television at Electronic City, Bengaluru south, to enable her family to attend the service.
Though the virtual service enabled most components of an Easter service to be conducted, the lack of physical contact manifested when it came to observing one of the most important rituals, eucharist or the holy communion.
The Holy Communion is a sacrament commemorating the Last Supper wherein Christians consume consecrated bread, likening the body of Christ and sip a little wine, likening the blood of Christ.
"Despite all the possibility enabled by technology, unfortunately we could not partake in the Holy Communion as the congregation is not present in the church," lamented Onesim.
Online service streaming, however, is nothing new for the pastor, who regularly streams his Sunday sermons, including the recent Lent Season, Ash Wednesday, Maundy Thursday and Palm Sunday.
Similarly, most churches in Bengaluru shared their Easter service links with the devotees for virtual festival celebration, adhering the Covid lockdown.
(Sharon Thambala can be contacted at thambalasharon@gmail.com)
–IANS<br>sth/pcj