India
5 occasions to celebrate with luxurious meals in the comfort of your home during lockdown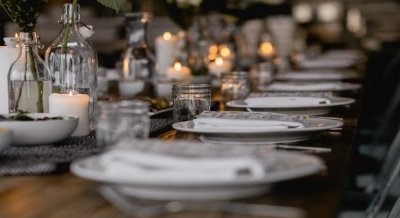 <br>Food lovers can use food delivery apps like Swiggy which are delivering signature dishes of 5-star restaurants to the comfort of our home. Using the app, users can now order-in dishes made by luxurious Michelin star chefs for chains like Hyatt, Leela and Marriott who have opened their kitchens to serve their loyal patrons.
The top 5 occasions to order-in some luxurious fares are:
Birthdays: Celebrating birthdays during lockdown has encouraged people to get creative by throwing virtual parties or creating videos for their friends and family. Go a step further to curate a playlist of the birthday girl/ boy party tunes, consider ordering in a special birthday brunch or lunch with decadent desserts from JW Marriott.
Date Nights: For couples living together and in each other's presence day in and day out during quarantine, life could get mundane. One way to maintain the relationship spark is by creating your own date nights without even leaving the house. Play dress up, bring out the good tableware and order-in a great meal. A good choice is some of the mains from Grand Hyatt's exquisite menu.
Anniversaries: So, you can't go out to your favourite restaurant and you can't afford to celebrate your anniversary by eating dinner sitting in front of the TV as well, can you? Why not order your favourite dishes from Marriot hotels elaborate all-day menu and bring restaurant-standard dining to your own dinner table? We're talking about a nicely set table with candles, a glass of wine and a three-course extravaganza.
Movie Nights: Being separated from your friends during lockdown doesn't have to mean missing out on watching movies together. Apps such as newly launched Netflix Party or Zoom allow synchronized film watching no matter the physical distance between people. Order- in some burgers and nachos from Doubletree by Hilton to complete this surreal experience.
Festivals: Festivals are a key to bring people together in our culture. Now more than ever it is important to celebrate and keep special traditions alive while maintaining norms of lockdown and social distancing.
What better than rejoicing in a festival with some delightful meals? During this holy month of Ramadan, you can order-in delectable fares like Biryani and falooda from your city favourites for breaking fast with family or otherwise.
All these restaurants are taking the necessary hygiene measures of regular temperature checks, sanitization of workstations and wearing of masks and gloves to maintain safety and hygiene levels. They also have a designated pick up area to ensure minimum human contact. With residents of the city currently practicing social distancing, below are occasions that you can go the extra mile to celebrate with your loved ones by ordering in some exclusive dishes.
It's time to beat lockdown blues by celebrating small joys during quarantine with mouth-watering dishes using the convenience offered by food delivery platforms.
(IANSlife can be contacted at ianslife@ians.in)
–IANS<br>adr/tb/