India
2nd positive COVID-19 case in Gurugram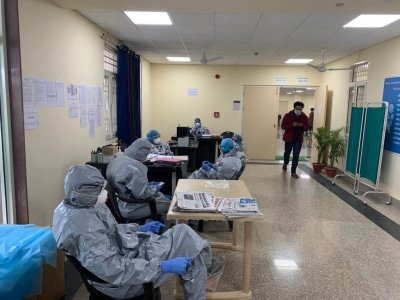 Gurugram, March 18 (IANS) The second positive coronavirus case in Gurugram has been reported in the upscale Sector-50 area on Wednesday.
The victim is a 42-year-old businessman who recently travelled to London and returned on March 7. He was quarantined on March 9. The victim is currently admitted in an isolation ward of Delhi's Safdarjung hospital.
Gurugram Civil Surgeon Dr J.S. Punia confirmed it after the test report was received from the National Institute of Virology (NIV) Pune.
Besides him, eight persons including three maid servants who came in contact with him are also under isolation in quarantine wards in different hospitals.
"We have taken blood samples of all eight persons. The reports of three of his family members came negative," Punia said.
Earlier, a 29-year-old woman from Gurugram was also found infected with coronavirus and admitted in Delhi's RML Hospital. Apart from this, 14 Italian tourists are also admitted in Medanta hospital with symptoms of coronavirus.
Meanwhile, the district administration has clarified that door-step blood collection service for coronavirus testing is not being offered as yet.
"It is a moral and social responsibility of each and every citizen to go at designated health centers to give blood samples. 17 hospitals of the district have such facilities to receive blood samples which will be sent to PGI Rohtak for testing," said Amit Khatri, Gurugram district magistrate.
–IANS
str/kr